There are many companies in China that makes the high quality rubber extrusions for suitable applications. But Seashore rubber is the best one among all. We make variety of products for the benefits of our customers. Our office and factory are located in Qingdao, China. We make the glass channel rubber extrusion. We are one of the best China Rubber Extrusion Suppliers.
Our high quality materials:
We use high quality materials in order to provide the best products to our customers. Rubber extrusions are actually made from CR, EPDM, SBR, NBR and NR. Our products have strong plasticity and elasticity power as well. We also use the chemical resistant material in order produce the high quality products for the customers. We are one of the best and reputed Rubber Profile Suppliers in China.
Experienced producing team:
We have experienced and expert producing team in our company. They all are talented and skilled enough to produce the high quality materials. We have specialized engineers in our team. Our employees can make the best thing in any kinds of situations.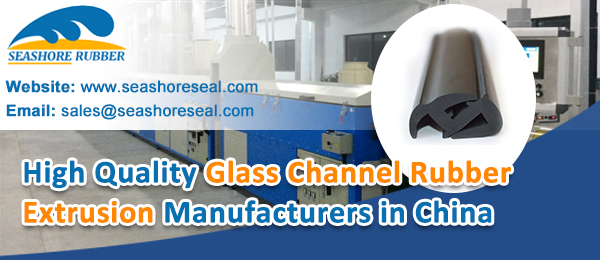 Certified company:
We are one of the certified companies in China. We have enough certification and authorization in order to serve best. Our employees are also licensed workers. We try to give our best at every step.
Testing equipment:
We have also high quality testing equipment in our factory. Our workers and team manager check the products before its packing and shipping. We check the standard of quality before delivery. We maintain our brand name and quality. We never compromise that with anything. So, we always try to maintain our fame and working history.
Wide range of products:
We have wide range of products in our company. You can get too many varieties in our factory. We produce from rubber extrusions to adhesive rubber stripes. We also manufacture the rubber tubes and rubber cords. You can also get the PVC and rubber water stop in our factory. You can get a wide range of option under one roof. You do not need to go to somewhere else. We will provide you a lot of things as per your needs.
Affordable rate:
We produce and sell so many items at reasonable rates. We do not charge high rates for these items. You can get these at affordable rate. You can get the high quality products and cheap rate as well. Our items are perfect for your house and offices. We make long lasting products for future benefits.
We also make custom rubber extrusion. We produce the unique style as per your recommendation. So, as per your need and requirements, you can send us your design and style. Our engineers will do accordingly. We always try to produce the best products for our customers and make a solid bond with them. We are popular and famous for our quality. We never compromise with the quality of products. We always try to provide the best thing to our customers and make a relationship for future references as well. We want to create the benchmark for future.