Unlike molded rubber, rubber extrusions are made using extruded parts which are fed into an extrusion machine. In the process, a rubber compound is forced into an extruder through a die which is subjected to high pressure and temperature. When the rubber is in the die, the increase in pressure ejects the material through some openings. The extruded rubber swells based on the hardness and type of compound used. Due to the ability to swell, several extruded rubber parts can be varied on their cross-sections. The finished products are then hardened or vulcanized to make them usable. Swelling or shrinking varies based on the type of rubber used.
An extrusion die used in making extruded rubber is made by cutting an opening via a steel blank. The shape of the finished rubber should match the shape of the opening. Extrusions of different shapes including squares, hollow shapes, corded and many more can be made from the process. They can be customized to suit various applications.
Why rubber extrusion?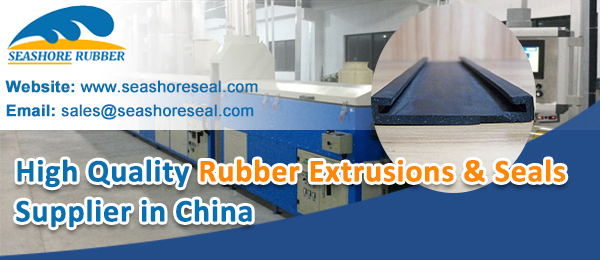 The reason why extrusion is used is that it results in the production of soft and pliable rubber. The rubber made from the process is consistent and repeatable. It can be cut into different lengths to suit various applications. They are not like rubber molding that is usually restricted by press size where maximum straight length is usually one meter.
Extrusion is considered a cost-effective solution because it is easy to achieve bulk production. It is also possible to maintain a high level of accuracy in the process, unlike molding. Additionally, in case of aesthetics is desired, rubber extrusion makes it easy to do color matching.
Moreover, from the process, a variety of shapes can be created. The extruded rubber is lightweight and very flexible and can be used for different applications. They can also be designed based on customer specifications.
Applications of rubber extrusions
Rubber extrusions are used for various applications ranging from sealing to noise reduction. Rubber extrusions are also used to create trimmings for use in mass transit trains. In modern architectural design, the material can be used for decorative purposes. Food and dairy industries also use rubber extrusions to create custom tubing which is used in various processing applications.
Where to obtain high-quality rubber extrusions
Regardless of the type of application, it is vital to source your rubber extrusions from a reliable manufacturer. Seashore Rubber is the leading rubber extrusions manufacturer in China. Manufacturing the highest quality rubber extrusions, Seashore has become the most trusted supplier of rubber profiles for various applications.
Types of products we sell
We have a comprehensive range of extruded rubber products which include EPDM rubber extrusions profiles for windows, glass, container sealing, car bus truck sealing, doors, and D-shaped bubble rubber seal strips among others.
With our years of experience in the rubber extrusion industry, you can count on us for quality products. Contact us today for quality rubber extrusion products including bulk orders. Visit our website to view a broad range of rubber extrusion products that we offer.