If sponge rubber extrusion in square shape is the important ingredient for your business then you must be searching for a Chinese company that can supply them as per your requirement. Seashore rubber can be the right company for your business as being rubber seals manufacturer they can also manufacture and supply sponge rubber extrusions of your choice whenever you want. China rubber extrusions manufactured and supplied by Seashore rubber are considered the best in the rubber extrusion industry of this country.
About Seashore Rubber
Seashore Rubber is the number one supplier of wide variety of rubber extrusions products in China. The process of rubber extrusion includes conversion of rubber into various other materials that can be used precisely to form various types of parts that can be used in various applications. In this process extrusion machines are fed with rubber through a die which produces rubber extrusions of your desired size, shape and profile. For different sealing applications different types of customized extrusions are produced by applying high pressure. Similar is the condition of manufacturing square sponge rubber extrusions in China. The extrusion products manufactured and supplied by Seashore Rubber are normally used for sealing different applications in electronics, aerospace, sports and recreation, manufacturing, industrial appliances, flooring and cleaning industries.
Types of products manufactured and supplied by Seashore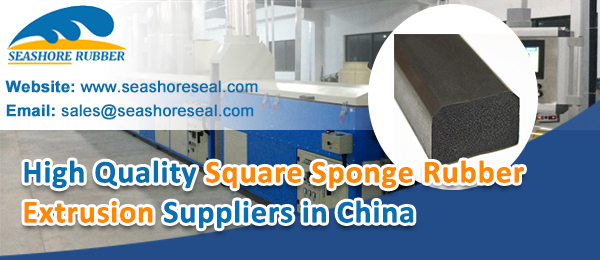 Seashore Rubber manufactures and supplies a variety of extrusion materials including rubber seals, and rubber trims that are used for seal cars, containers, truck tanks, doors, and window glass seals etc. These materials provide resilience, flexibility and impenetrability to applications where they are used as great sealers. They include rubber rollers, rods and sheets so that they can be used in many manufacturing facilities to absorb the noise of the parts moving in the machines. Though the quality of all of these extrusions is of high level still the quality of individual product depends upon the extrusion process and type of materials used in them.
Reasons to opt Rubber Extrusions
Most businesses use rubber extrusions because of the various benefits they provide. First benefit of using rubber extrusions is that while designing them there is not restriction about their shapes, sizes and types as they can be produced in any type, size, and shape. It allows you to choose from various types materials to make different types of extrusions. Moreover, rubber extrusions can be providing you flexible, but soft and strong materials to use.
Reasons to choose Seashore as your rubber extrusion manufacturer
If you want rubber extrusions of high quality for you business then it is important for you to choose the best rubber seals manufacturer in China which can provide China rubber extrusions of your choice. Seashore Rubber is the company that uses the best materials, manufacturing procedures and custom designs to manufacture sponge rubber extrusions required by your business.
In this way Seashore Rubber can help in the growth of your business to a considerable level. In order to see the range of rubber extrusions manufactured by Seashore you can visit their factory anytime.