If you are in sponge rubber extrusion business and searching for the best suppliers and manufacturers of sponge rubber extrusion products in China then you have arrived at right place. Seashore Industrial Co. can be the best choice for you as they are known as leading China rubber extrusion manufacturer. The extrusion sponge rubber products manufactured and supplied by them can improve your rubber extrusion profile. The information provided here under can help you know this rubber extrusion Chinese company more closely.
About Seashore industrial Co Ltd
Seashore Industrial Co. is a Qingdao based Chinese professional company that manufactures wide profile of rubber extrusion products of high quality including sponge rubber profile, silicone rubber products, co-extrusion sealing strip, plastic profiles, and rubber tubing & hose in China. They produce advanced lines of rubber extrusion products, rubber injection machines and plastic extrusion lines advanced detection equipment and skilled CAM/CAD mold development equipment. They are capable to produce various types of co-extrusions, single extrusions, air hose punching, flocking, cold gluing, corner welding, cutting & splicing, 3M taping and biding of all types of rubber extrusion products.
Specialization of Seashore Rubber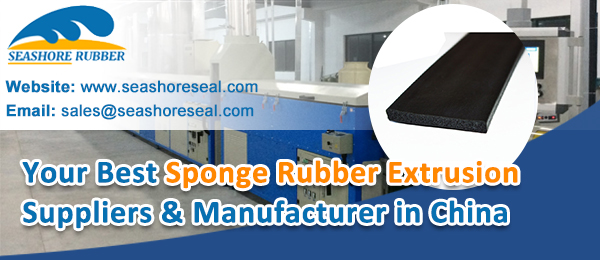 They specialize in creating custom reverse engineering solutions to develop new products by reversing your old drawings without any limitation of size, shape and materials used in them. They have a team of experienced and knowledgeable professionals that nah help you in making your ideas true. They feel honored to help you in your existing project or in any forthcoming project.
Products manufactured by Seashore Rubber co.
Seashore Industrial Co. manufactures and supplies a wide variety of rubber extrusion products including Sponge Rubber Extrusion, Rubber Extrusion, Rubber Co-extrusion, Rubber & PVC Waterstop, NBR & neoprene Rubber Extrusion, Adhesive Rubber Strip, Rubber Cord and Rubber Tubing. Some of the sponge rubber extrusion products manufactured and supplied by this Chinese company include Square Sponge Rubber Extrusion, Closed Cell Sponge Rubber Profile 01, Neoprene Sponge Rubber Extrusion and Special Sponge Extruding Profile Rubber Sealing Strip etc. from which you can choose as per the requirement of your business.
Reasons to choose Seashore
You should choose Seashore Rubber co. your best suppliers & manufacturer of sponge rubber extrusion in China because:
They are bonded and licensed to manufacture and supply the best quality rubber extrusion products and permitted to participate in this industry as a professional firm. Moreover they are insured at Qingdao so that you can use their products and services safely. They promise prompt delivery of your order as per your requirements as they are dedicated to promptly supply rubber extrusion products of high quality to their local and international customers. You can get the delivery of your sponge rubber extrusion products according to your order at your doorstep as soon as possible with the consistent efforts of their delivery team. They provide all of their product and services to their esteemed customers, local and international, at very competitive prices.
So, you can improve your rubber extrusion profile by choosing Seashore Industrial Co. as your China rubber extrusion manufacturer for all types of the extrusion sponge rubber products required by your business.