EPDM Rubber Extrusion is a manufacturing process involving hire-pressure extrusion machines to make natural or synthetic rubber material to send it through a pre-shaped die to or a section profile cut or shape. The process is used widely used in part manufacturing. An EPDM Rubber Extrusion Profile can withstand high temperature and extreme weather conditions. They are used for a range of applications including freezer seals, refrigerator gaskets, oven door seals.
Benefits of EPDM Rubber Extrusion Profile
EPDM Ruber Extrusion Profile involving the use of EPDM in place of natural or synthetic rubber. The process is widely used for door seals, bidding, seals, the lining of water reservoirs, face safety masks for high-temperature areas, water roofing roofs, security door, sliding doors, many more.
EPDM Rubber Extrusion making involves sophisticated technology. China with its pool of technology workforce has taken the lead position globally. There are a large number of EPDM Rubber Extrusion Suppliers in China. Of them, you can choose Qingdao Seashore Industrial Co. Ltd.
Why choose Qingdao Seashore Industrial Co. Ltd.?
There are many benefits that you're going to accrue by choosing Qingdao Seashore Industrial Co. Ltd. It is a high profile professional company that manufactures high-quality rubber extrusion profiles, rubber profile, extrusion sealing strip, sponge rubber profile, silicone rubber products, plastic profiles, rubber tubing and hose, and so on.
The company has state-of-the-art rubber extrusion lines, rubber injection machines and plastic extrusion lines, corner welding, boding, cold gluing, 3m taping cutting and splicing. The company tops Rubber Extrusion China Manufacturers.
About the services offered by the company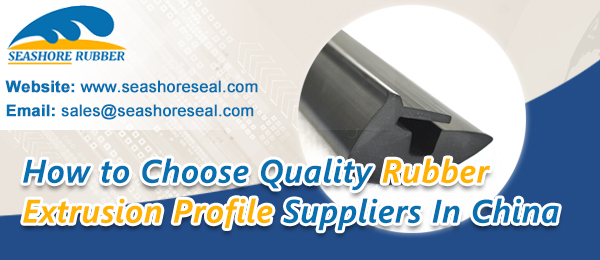 The company specializes in developing custom solutions that can find application in reverse engineering for drawing, samples or developing a completely new product with no limit on shape, size or material. The company would lie to extend their help to the client. If your company is aging to deal with a project that is challenging you can seek the service of the company.
Now given an overwhelming number of companies, it may be a challenging task to select the best of them is a tough task. Yet you can ensure to choose the company that is reliable, suitable in terms of budget and the quality of services that it offers.
The company has a great amount of experience in EPDM Rubber Extrusion, rubber, and allied services.
Consider these points:
Technical competency
Check out the technical competence of the team. Look for online reviews from past clients. This may give a clue on how competent are to work on your project.
They should have a high-quality workforce for designing schemes (using PRO-E, CAD, and software of their own).
Further, they should be competent in the making use of all the complex processes to bring out the final product. The process should be executed consistently. They should have enough modern manufacturing facility.
Look for reviews from clients of the past
Customer service – You can judge whether you should choose the company for your EPDM Rubber Extrusions needs. How promptly and seriously dealing with you can give a clear picture of the quality of the services they are going to offer.
If you are planning to buy EPDM rubber extrusion profile-making services from the company, you can send them an email in this regard.