If you are looking for the manufacturers and suppliers of quality China containers and EPDM rubber extrusion products then you have arrived at the right place. Seashore Rubber offers a wide range of China rubber extrusion, EPDM composite rubber extrusion and EPDM rubber extrusion profiles to help in improving the business of its clients all over the world.
Reasons to go for EPDM Rubber Extrusion Profiles
EPDM rubber extrusion profiles made by this company are preferred by many companies than the profiles made from synthetic or natural rubber because of their lasting durability and stability. These profiles are used mainly for making seals, bidding, and door seals along with face safety masks in high-temperature areas, lining for water reservoirs, security sliding doors, and waterproofing roofs, etc.
At Seashore Rubber a sophisticated technology is used to make EPDM composite rubber extrusion products. China is the global leader in this field due to its enormous amount of workforce in the form of technologies. In China, you can easily find EPDM rubber extrusion manufacturers and suppliers in a large number including us. Our company Seashore Industrial Co. Ltd. is located in Qingdao, China.
Reasons to choose Seashore Industrial Co. Ltd
Being one of the leading manufacturer and supplier of the wide range of China rubber extrusion products Seashore Industrial Co. Ltd can benefit your business in many ways. They can produce high-quality rubber profiles, rubber extrusion profiles, sponge rubber profiles, extrusion sealing strips, plastic profiles, rubber hose and tubing, and silicone rubber products due to their high profile status as a rubber manufacturing company.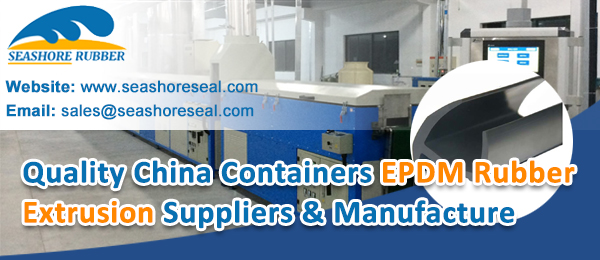 They are the top manufacturer of rubber extrusion in China because they have the best and most modern lines for rubber extrusion, and plastic extrusion as well as a variety of machines including boding, corner welding, 3 taping, slicing and cold gluing machines to provide the best products to their global customers.
Services offered by Seashore Rubber
The company Seashore Rubber is an expert in developing solutions that can be used to find reverse engineering applications for designing, creating and developing entirely new products regardless of any limitation on their material, shape and size.
If a company is longing to deal with Seashore Rubber to help it in a challenging project then Seashore Rubber has experience and expertise to help its customers whenever they want.
Though it can be challenging to find the best company in China that can provide the best EPDM composite rubber extrusion due to a large number of companies in China, but in the presence of Seashore Rubber, everything can be possible. They can ensure to provide the high quality and reliable products and services that can suit the requirements of their customers.
They produce and supply the best EPDM composite rubber extrusion,EPDM rubber extrusion profiles, and China rubber extrusion products on the basis of their past experience and the latest techniques used by their professionals. You can go through the reviews of their previous clients to know about the level of technical competency of Seashore Rubber.