Today, NBR rubber extrusions find a wide range of applications in automotive, refrigeration and other industries. The benefit of the NBR rubber extrusions is that you get any shape or any size, whether it is D-shape, T-shape or cuboid shape, or any other custom shape, extrusion. NBR rubber that goes to get extrusions of the material has excellent properties including its resistance to oil, water, and hydraulic fluids.
Benefits of Rubber Extrusion Profiles
With the advancement of technology, and modern cutting-edge machinery, and more methods of manufacturing, rubber extrusion profiles have assumed remarkable significance in the diverse products making including gaskets, window seals, components and parts used on ships and railcars, automotive trim, and more.
Long lasting
NBR rubber extrusions provide customers are the best products that offer long term benefits. For instance, gaskets made from a quality rubber material and compounds are highly resistant to cold and heat, aging, friction, abrasion, wear and tear and fading of colors.
Resistance to wear
NBR Rubber Extrusions utilize high quality extruded rubber. This leads to making parts or components that are highly resistant to wear.
It helps save costs
NBR Rubber Extrusions help save costs. Savings happen because of the amount of material that would have otherwise been wasted by following other methods. Further, maintenance costs also significantly fall. Thus, both manufacturer, as well as the customer, will benefit in the long run.
It will bring brand recognition
As you keep on making and selling the best product, customers start trusting you and your brand will get recognition.
Seashore Industrial Co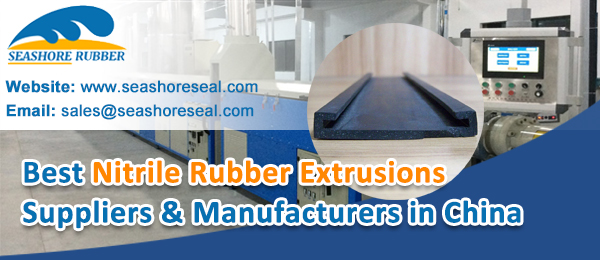 If you're planning to buy Rubber Extrusion Profiles in bulk quantities, the best thing is you can get the material from China-based Seashore Industrial Co. Ltd is the best one. Seashore Industrial Co. Ltd leads China Rubber Extrusion Suppliers.
Located out of Qingdao, China, Seashore Industrial Co is a professional company that is into manufacturing of high-quality rubber extrusion profile, co-extrusion sealing strip, rubber tubing & hose, plastic profiles, and silicone rubber products.
Core manufacturing
The core manufacturing processes performed by the company include rubber extrusion, sponge rubber extrusion, adhesive rubber strip, rubber coextrusion, NBR & neprene rubber extrusion, rubber and PVC waterstop, rubber cord and rubber tubing.
Areas of proven excellence
The company has excellent proven areas of specialization in advanced rubber extrusion lines, skilled CAD/CAM mold development, plastic extrusion lines and rubber injection machines, and advanced detection equipment.
The company specializes in developing the custom solutions that can be based on a plan different from the one submitted by the customer including samples, drawings, etc. or develop a completely different product. The final product may not have any material limitations shape or size.
Customer service is the company's priority
Ever since its inception, the company is committed to offering the most suitable and customized solutions to the customers. All the teams in designing, core development, quality control work together and play a proactive role in the whole business environment.
Contact
If you're planning to start a business dealing in Rubber Extrusion Profiles and allied products, Seashore Industrial Co.Ltd is the company you can bank on without a second thought.
Contact the company today. You can contact them by email. Alternatively, you can visit the official website and fill out the form furnishing your details. They will get back to you within the shortest possible time